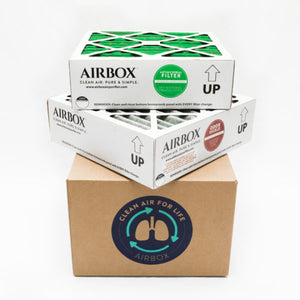 Refresh your AIRBOX Peak Series-S with new Antimicrobial and Odor control Filters
Odor Shield Filter (4")
Encapsulated in Rapid Adsorption Media, the Activated Carbon removes Chemicals, VOC's, bio effluents and other objectionable odors. Unique to activated carbon filters, the encapsulation media acts as a pre-filter and prevents carbon particles from loading downstream antimicrobial and HEPA filters. The Peak Series-S Activated Carbon filters have an Ozone 5 rating with greater than 50% Ozone removal efficiency.
Antimicrobial Filter (4")
The AIRBOX Antimicrobial Filter meets all published hospital filter efficiency guidelines and is treated with an EPA registered antimicrobial agent that provides 24/7 product protection. The Antimicrobial Filter also acts as an extremely effective pre-filter in reducing the particle load and substantially extending the life on the final HEPA Filter.